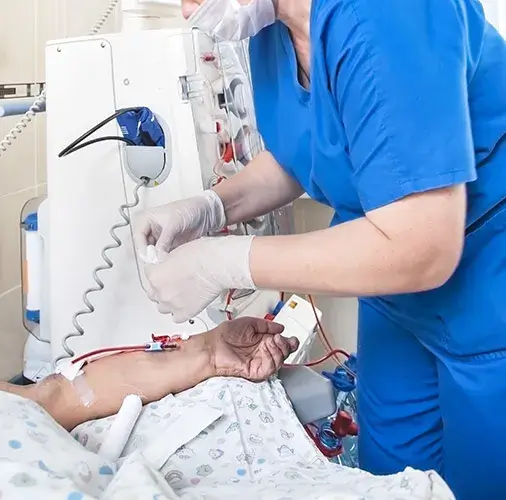 Your support by
A competent team
Your hemodialysis sessions at the Alyssa center in Tunisia are supervised by a referent hemodialyser doctor.
Our hemodialysers doctors work alternately throughout the sessions in order to intervene if necessary. They define and prescribe technical methods according to your state of health, and set the pace and duration of dialysis sessions.
The dialysis sessions at the Alyssa center last about 4 hours and the nursing staff ensure the smooth running in coordination with your hemodialysis doctor.
The nurses of the Alyssa hemodialysis center ensure the smooth running of your session by carrying out the medical prescriptions.
The centre's nursing assistants assist caregivers, they are trained precisely in hemodialysis activity and in the specifics of patient care according to the methods selected. They also ensure your safety and comfort.
The administrative staff of the Alyssa Hemodialysis center ensure the planning of the organization of your consultations and your sessions, the coordination of your transport if necessary, and the production of all the administrative documents necessary for your taking covered by your health insurance fund.
The administrative staff also ensures the keeping of your medical files and the coordination of any additional examinations and temporary hospital stays.