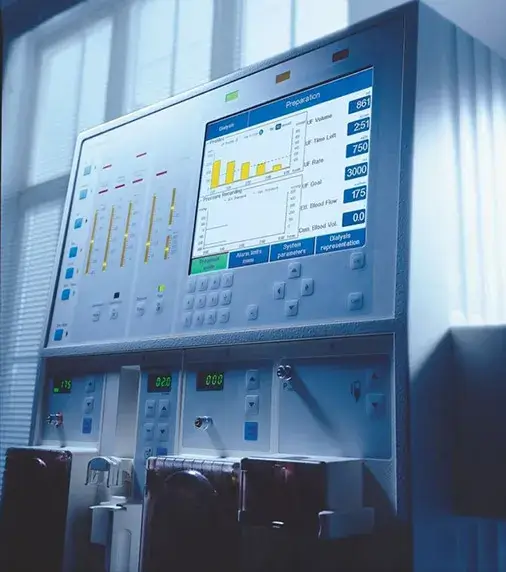 Performance of dialysis machines
Modern equipment
The Alyssa hemodialysis center is equipped with high performance equipment.
Through continuous optimization of treatment modalities, the manufacturer of our dialysis machines (Fresenius Medical Care) always aims to offer patients the best treatment to replace kidney function, in order to increase their well-being and quality of life.
Our 4008S hemodialysis system ensures the safety and effectiveness of all treatment modalities within the framework of dialysis sessions, such as:
Bicarbonate dialysis
Single needle or SN Click-Clack
Ultrafiltration and Sodium Profiles
ISO-UF program
ONLINE Haemo(dia)filtration
The water treatment room is equipped with a double Osmosis unit with a double chemical and thermal disinfection, as well as an acid plant, and the quality of the water produced is regularly monitored by periodic analyzes according to international standards.
The center is also equipped with a generator that provides power in the event of a power cut.